Gladinet Cloud
Enterprise Edition
HP Helion Ready
Full featured, secure, file sync and share solution for large groups.
Gladinet Cloud Enterprise Edition allows an organization to provide simple, secure access to HP Helion OpenStack Swift for all their backup, synchronization and collaboration needs.
Private Storage
API Compatible – Simply supply Gladinet with an access point and credentials to create a private sync and share solution based on object storage from HP Helion OpenStack Swift
DFS Integration – Leverage DFS or any other local storage platform
File Server Integration – Provide remote access to files stored behind the firewall using any device without using a VPN or public cloud
Simple On-Premise Deployment
Installable Sync and Share – Gladinet provides a Windows Installer (MSI) package that creates stateless servers based on Microsoft components. It's easy to install, manage, and scale.
AD Integration – Automatically use existing identities and home shares from Active Directory
Complete Control – The entire solution can be deployed and managed on-premise, from private cloud storage to orchestration to clients.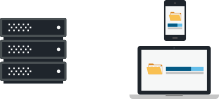 Try Gladinet Cloud Enterprise Edition Today
90 day Free Trial