Gladinet
Team Edition
Simple, secure and seamless collaboration on any device. Hosted by Gladinet.
Share Files and Folders Over the Internet
Share Files and Folders with Your Friends Anytime, Anywhere
Table of Contents

Introduction
Gladinet Cloud makes it easy to share your local and online files and folders with your friends.
The files and folders can be shared directly from your desktop. Or you can drag and drop them into the Gladinet Cloud and share from there.
Problem Statement
You may have a set of pictures from your recent visit to Disney that you would like to share with your friends. Digital cameras allow you to import the pictures to your local hard drive but how can you share them with friends?
You may also have a folder of documents, utility statements, or homework assignments that you would like to share directly from your desktop.
Previous Options
Email attachments were probably the most popular way of sending or sharing files across the Internet. However, there are size limitations, file extension restrictions, among other constraints. And you can't easily share an entire folder as an email attachment.
Gladinet Solution
Gladinet allows you to share directly from a desktop PC or file server. It has unique, patent-pending technology that attaches your local folder to online cloud storage. Once it is attached, it can be immediately shared over the Internet, without waiting for the full upload to be completed.
The Gladinet solution includes the Gladinet Cloud Desktop client (Team Client) and Gladinet Cloud File Server client (Cloud Server). These products give you the option to share from your desktop PC or file server.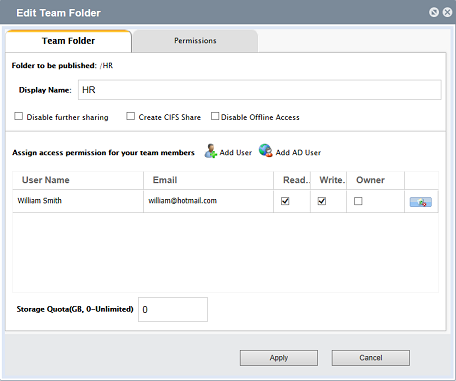 Solution - Sharing with Individuals
Each Gladinet Cloud user can share files and folders with any other Gladinet Cloud user, with read/write permissions. Each Gladinet Cloud account can also share files and folders with outside business partners, giving them read-only, browser based access.
Summary
Gladinet Cloud provides a simple, secure file and folder sharing solution over the Internet.
Next Steps
Sign up for a Gladinet Cloud Personal account. After that, you can download the included Gladinet Cloud Desktop client and connect it to your account.