CentreStack
Enterprise File Sharing
Sync outside the box with this self-hosted, enterprise file sync and share platform.
CentreStack Quick Start Guide
Instructions to get started
Table of Contents
Whitepaper and Deployment Guide

CentreStack uses the Microsoft Web Platform (IIS , ASP.NET, .NET Framework 4, SQL Server/Express). These components will be configured by the CentreStack installation package automatically.
System Requirements
Operating Systems: Windows 2008 R2 or Windows 2012/R2
Architecture: 64 bit
Minimum Requirements: 4G Memory, Intel CPU, 160G Hard Drive, Physical or Virtual Machine
Additional Requirements: CentreStack Installation requires a clean image with plain OS installed.
Pre-requisite: Microsoft Web Platform (Will be installed automatically)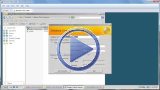 Quick Start Video
(More Video ...)
The following components will be automatically installed by the Gladinet installation package if they are not present on the system.
IIS - On Windows 2008/2012 machine, this is included in OS already
IIS - ASP.NET
IIS - IIS Management Console
.NET Framework 4.5 Full (not Client Profile)
SQL Server 2008/2012/2014 Express
SQL Server 2008/2012/2014 Management Studio Express

The new CentreStack installer released after Nov 1, 2013 is capable of collecting the pre-requisite and install them if they are not already on the system. The new CentreStack installer can be a one-stop installer to install everything from begin to end.
Install CentreStack
Step 2 - Configure CentreStack
Upon Restart, you will be directed to the configuration page. The very first user registered will be the administrator for the CentreStack.
| | | | |
| --- | --- | --- | --- |
| Administrator | Fill in Administrator | | |
Next you will need to select User Manager. You can select the default user manager so you can manually create users. You can also select Active Directory so you use your existing user management infrastructure.
| | | | |
| --- | --- | --- | --- |
| User Manager | | | |
Next you will select the backend storage for your CentreStack. You can select local storage, file server storage or any public cloud storage services that is supported.
| | | | |
| --- | --- | --- | --- |
| Configure Backend Storage | | | |
Next it is all ready, you are in the management console, starting the 90-day trial.
| | | |
| --- | --- | --- |
| Administrator Management Console | | |