CentreStack
Enterprise File Sharing
Sync outside the box with this self-hosted, enterprise file sync and share platform.
Leverage Existing IT for Private Cloud
Use your current IT infrastructure and turn them into private cloud
Table of Contents

Introduction
This white paper describes CentreStack which can be used by businesses to privately deploy and host file sync and share solutions, providing an access layer (browser, mobile, desktop and file server access) around private storage service, and retaining full control of data storage and the related access infrastructure.
Problem Statement
As the CIO of the company, you are happy with your existing IT infrastructure, and have all the file servers secure and under control. Your on-premise SAN and NAS storage may have excess capacity planned years ago and will remain sufficient for several years to come. You are happy because everything is under control and growing as planned, and your business is running smoothly.
However, you have a growing concern because you have noticed the penetration of public cloud storage applications such as Dropbox into your corporate IT infrastructure. Your employees have these applications on their laptops making it easy to leak corporate data to third party cloud storage services.
You need a dropbox-like solution that you control 100%, using your existing file servers, SAN storage and NAS storage. You don't want to make any new hardware investments, but you want plugin a dropbox-like solution to leverage your existing IT infrastructure and while keeping it under your control.
Previous Options
There are private cloud solutions that come with everything, including the new storage server, software and the access clients. It could be expensive and you may not be ready to move away from your existing investment in file servers, SAN and NAS storage.
Gladinet Solution
CentreStack provides a solution for the problem above by wrapping all the public Gladinet Cloud features into a Windows Installer (MSI) package that you can install on your own. The solution provides a complete access solution covering browser access, mobile device access, desktop client access and file server access, all with the speed of streaming HTTP transfers.
The solution integrates with your own file server storage, SAN storage or NAS storage. It also integrates with your Active Directory and easily plugs into your existing IT infrastructure.
Benefit 1 - Low Cost Solution
CentreStack is a pure software based solution. It leverages your existing IT infrastructure. You don't need to purchase new storage solutions or new hardware.
Benefit 2 - Fit Right In
The solution can be plugged into your existing storage options and connected to your existing Active Directory service making it easy to start and easy to use.
Benefit 3 - Complete Control
From storage, to user management to CentreStack as access infrastructure, you have everything under control for a private cloud access solution.
Implementation
CentreStack should be installed on a Windows 2008 R2 server , or a Windows 2012 R2 server as shown in the following configuration.
You will install the CentreStack inside a DMZ zone. It will have a public DNS name that client devices can use to connect.
Below is a diagram for a CentreStack server farm, when it has more than one server in the server farm.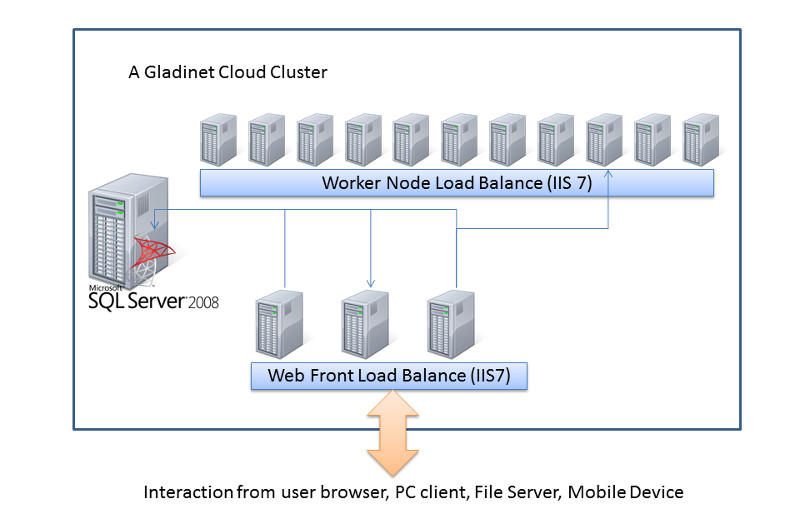 For detailed implementation and deployment information, please reference the Gladinet Cloud Enterprise Deployment Guide.
Summary
CentreStack leverages both the feature set of file sync and share solution and also the strength of control of private deployment by packaging features into a simple Windows Installable package.
The end result is a solution that Enterprises can easily deploy for their own private cloud storage service and private file server network share, with deep Active Directory integration.
For more information, please contact Gladinet Support @ enterprise@gladinet.com or visit http://www.gladinet.com
See Also
Additional questions? Contact Gladinet Support at support@gladinet.com.