CentreStack
Enterprise File Sharing
Sync outside the box with this self-hosted, enterprise file sync and share platform.
Secure File Sharing with Amazon Web Services
Provide a Dropbox-like Solution to Your Users with Security and Control
Useful Links
Picture Gallery Links
Video Gallery Links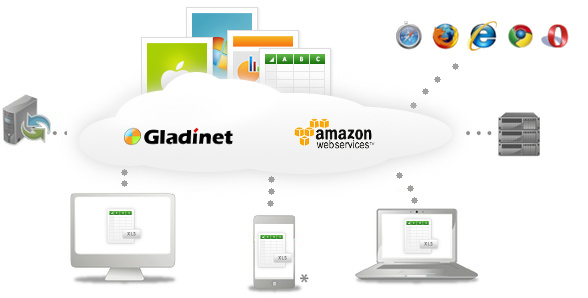 Secure file sharing from your private AWS environment that is easy to setup.
Access your private S3 account from any device with On-Demand synchronization
Deep Active Directory integration. Get started with your existing users in no time.
Easy migration to the cloud. Move existing file shares and permissions to the cloud.
Retire on-premise servers or keep them for offline access
Simple deployment on a small instance in EC2 supports thousands of users
AWS AMI Quick Start Guide
AWS EC2 Quick Start Guide
What is CentreStack (Gladinet Cloud Enterprise)?

CentreStack allows enterprise to privately deploy a secure file sharing solution with access from any device (browser, mobile, desktop and file servers).
It is a self-hosted dropbox alternative that enterprises can trust.
Why Self-Hosted?
Many enterprises are now faced with the Dropbox problem. Employees use Dropbox for file sharing, synchronization and mobile access, but IT departments need to maintain control over the security and location of their data. There may also be regulatory restrictions which create the need for a secure, self-hosted solution that has the same file sync and share features as those from public domain.
CentreStack solves that problem and provides a simple, convenient migration path for existing servers and data.
For secure file sharing, CentreStack is a simpler, cheaper alternative to Sharepoint. Sharepoint is a powerful solution but if you just want secure file sharing, you can save time and money. For example, a typical Sharepoint deployment may require several servers while a simple Gladinet deployment on a single Amazon EC2 small instance can provide secure, private file sharing to thousands of users with access from mapped drives and mobile devices.
Many enterprises are faced with the challenge of migrating their data to the cloud without disturbing existing users or spending lots of time reconfiguring access permissions, creating new users or training existing users to use cloud applications and services. CentreStack makes this migration easy. It integrates with Active Directory to use your existing users and migrates your file shares to the cloud with their existing permissions. And users can continue to access their data using the tools they are used to (file shares, Windows Explorer, Mac Finder, etc...)
CentreStack Solution
Summary
CentreStack integrates with Active Directory and your private AWS infrastructure to create a secure, self-hosted dropbox alternative. Try it now to regain control.
For more information, please contact Gladinet Support @ enterprise@gladinet.com or visit http://www.gladinet.com
See Also
Additional questions? Contact Gladinet Support at support@gladinet.com.