Windows File Server Migration
OpenStack Swift - File Server Migration
Migrate File Server to OpenStack Swift
File Server Migration

Gladinet Cloud makes it easy to migrate Windows file server to cloud storage services, such as OpenStack Swift. Gladinet Cloud includes the Gladinet Cloud Server Agent, a Windows Service running on the Windows file server, providing migration and connection functionaly. The server agent can be installed on windows 2003/2008/2012 file server and provide folder migration functionalities to the file server.

How to Set it Up?

The best way to set it up is to download the Gladinet Cloud Enterprise trial and set it up side by side with your own OpenStack Swift and turn it into a sync and share solution. Click the 'Free 90-Day Trial' to get started.

Test Drive It Live! For easy test drive on live systems, you can sign up for a Gladinet Cloud Team account. During the sign up process, select the "Plug-in My Own Cloud Storage" option and plug-in your OpenStack Swift Cloud Storage account. After the sign up process is completed, you will be at the Web Browser Based File Manager, looking directly into your OpenStack Swift files and folders. After that, you can download the file server agent to your file server and install it. After the installation, you can start migrate folders to OpenStack Swift.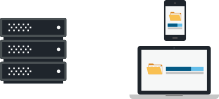 Leverage Your Own OpenStack Swift for a Private Enterprise Sync and Share Solution in Minutes!
Free 90-Day Trial